Deciphering French hallmarks is not easy: they are small and often worn, especially on rings. The identification of an official hallmark can nevertheless make it possible to date a jewel approximately and sometimes, by cross-referencing the hallmark with the maker's mark, if the period of activity of the latter is known, it's possible to refine even more the date of a jewel.
Before the French Revolution in 1789, the hallmarking of precious metal objects was carried out by the guilds in each town.
After the revolution, government operated hallmark offices were set up, and they tested precious metals and stamped them, both to certify the quality and to attest to the payment of taxes.  From 1798 to 1838, there were always two official hallmarks on an object – the title hallmark which certifies the purity of the metal and also the guarantee hallmark which attests to the payment of the tax. There was also  a third hallmark, the maker's mark of the goldsmith.
Since 1838, a single official hallmark along with the goldsmith's mark is sufficient. The Parisian guarantee hallmarks are often of a different shape to those of the provinces and from 1809 the hallmarks are provided with numbers or small symbols called assay office marks (différents in French), which specify the city of the hallmark office (indicated by an "X » on the drawings).
The title stamp was stamped exclusively on works of which the carat was absolutely guaranteed following precision tests. On the other hand, the small guarantee hallmarks were affixed to works tested with a touchstone, and whose purity was close to the minimum legal title.
The hallmarks of guarantee were stamped to certify the payment of the tax. This tax was not negligible, equivalent today to around four or five euros per gram for gold items. There was, therefore, an interest for unscrupulous goldsmiths to avoid the payment and a constant game of cat and mouse existed with stolen or fake hallmarks, verifications and fines.
Since 1795, the goldsmith's mark, known as the "maker's mark," must be in the shape of a diamond for precious metal objects. Called "responsibility hallmark", it is oval in shape for imported jewellery, while for rolled gold or for gold or silver plated jewellery, the hallmark is square or oblong for French and foreign manufacturers respectively.
The designs on this site are shown in yellow for gold and in gray for silver, although in some cases the same hallmark was used for both metals. Not all the hallmarks in the book Traditional French Jewellery have been uploaded at the moment, more will be added as time permits.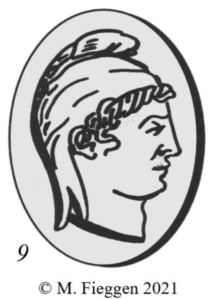 Hallmark of Liberty's head to the right in an oval frame. Recall hallmark for large objects in gold and silver. Paris 1797. The information on
Learn more »