Book – Traditional French jewellery
€87
Disponible sur commande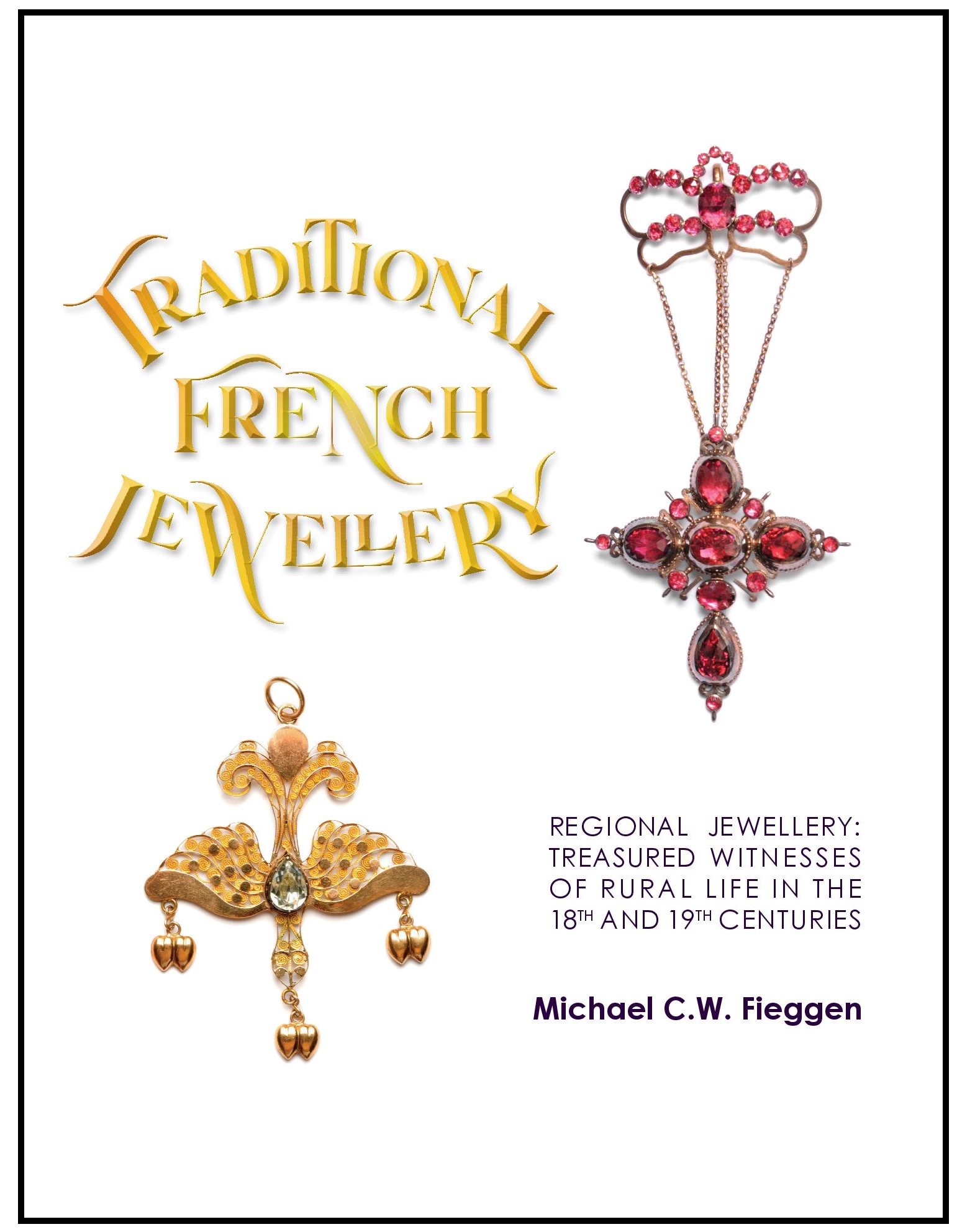 Just published – Traditional French jewellery by Mike Fieggen, expert in antique jewels at Osprey Paris.  Pour voir ce livre et page en Français, cliquez ici.
This book is currently out of stock and is being published once again. Please contact the author for more information.
All the diversity of French regional jewellery is richly  illustrated in colour along with the details of each jewel. Indispensable for professionals to correctly identify their jewellery and sell them at the right price. And also for the general public, this book fascinates with photos and anecdotes about the costumes and traditions of the past. There are no sumptuous diamond tiaras in this book, it's all about the jewels that the average woman and man wore 100 to 200 years ago, and which displayed astonishing regional differences. A subject all too often forgotten in most books published these days. The book is also available in French and also in English in a very limited edition. Volume II, to be published at the end of 2022, will list all the non-regional traditional French jewels.
Large format of 23.5 x 30 cm (9.25" x 12"), 300 pages, hard cover and fully illustrated in colour, this book is the first complete reference on the subject and corrects the many errors and gaps observed in other references and also presents many other regional jewels until now unknown to the public. The jewels photographed at the Mucem in Marseilles and at the museums of Martigues, Niort, Poitiers, Seez, Grasse and Martainville are presented here for the first time. The results of twenty-eight years of research on French regional jewellery are thus condensed into a single volume. A great deal of research has also been done on the hallmarks and in the book you will find clear illustrations of French hallmarks as well as a list of all the little secret assay office marks in the hallmarks to enable you to identify the places of origin of your jewels and date them better, thanks to a never-before published list of the dates of openings and closures of the hallmark offices. The few references which until now have identified assay office marks were all riddled with errors; in this book everything has been checked and corrected, thus avoiding errors in jewellery identification.
Be sure to specify whether you want the French or the English version!
To order, follow the instructions below as this website doesn't actually handle payments for this book, because it is sold privately by the author, and not by the shop.  PLEASE DO NOT USE THE ORDER BUTTON ON THIS PAGE, THIS WILL CAUSE ACCOUNTING PROBLEMS FOR US!

Each copy in English                             £75 sterling               overseas postage and packing            £8 sterling per copy
Each copy in French                              €75 euros                  postage within Europe                          €9 total for one or more copies

Bank transfer or Wise in Euros – Account holder : Michael Fieggen, 280 rue Saint-Honoré, 75001 Paris.
FR76 4061 8803 9700 0403 3233 171 – BIC – BOUSFRPPXXX

Bank transfer or Wise in Pounds Sterling – Account holder : Michael Fieggen, 280 rue Saint-Honoré, 75001 Paris.
IBAN – GB68TSBS 30916 200184462    BIC / SWIFT – TSBSGB2AXXX
Address Mike Fieggen, 280 rue Saint-Honoré, 75001 Paris.  Cheques in sterling or euros can also be sent to this address.
PayPal accepted with the following account : demosthenesparis (at) gmail (dot) com
Any questions?  Contact me at bijouregional   (at)  gmail. (dot) com    Telephone +33 6 8691 0158

Note that the price for the English version is in pounds sterling, while the price for the French version in euros.  The English print run is very small, only 200 copies, that's why it's more expensive.  In US Dollars, the price works out to about $95 with $9 shipping per book. You will be delighted with this reference book, satisfaction is guaranteed. If you'd like your book signed by the author, I'd be delighted, just tell me what name you'd like me to write.
What do buyers say about this book?
I just wanted to let you know that I absolutely love your book!!! It is very informative yet easy to look at and go through. I am very excited to see information on pieces I own, as well as so many pieces that are so intriguing and would love to find. It's great to put those pieces into context of history and cultural life. Very, very interesting book and I thank you for publishing it. I very much look forward to the next volume.
        Ai, February 2022
Hello I had your book in my hands, it is superb, congratulations
          Claudette Joannis, November 4, 2021 (author of Bijoux des Régions de Frane)

What a treat your book is!! I am passionate about regional jewellery and already have many books on this subject, but this one is very comprehensive. I had fun searching between my small and modest collection and your photos in the book.
          Karine February 11, 2022
This book is a mine for the study of regional jewels, and in particular the hallmarks used, with a very clear presentation by province and a rich iconography. It is, in fact, an essential complement to Monique Poulenc's work « French traditional jewellery » from the National Museum of Popular Arts and Traditions. Volume 2 is eagerly awaited…
                    Françoise (Museum of European and Mediterranean Civilizations) February 15, 2022
Extremely well documented work, very useful when researching the provenance of jewellery.
                

    Vichy Auctions February 16, 2022
Today is a big day! My nephews gave me your book! I am amazed at this amount of knowledge! Your work is essential!
                    Louis de S – February 21, 2022
The jewels of the French, a very well documented work, useful to experts in jewels, antique dealers, auctioneers, and in general to all those who are interested in history and traditions. A mine of information, to have absolutely!
                   Jean Claude Frediani, President of the National Chamber of Experts in jewellery, jewellery, watchmaking, gold smithing and precious stones. February 22, 2022
I have just received your book on regional jewellery: fabulous! I was already consulting your website regularly, but this is great. I learned about it thanks to a recent sale in Cherbourg, where the auctioneer had put a photo of this book to reference a necklace by Yvetot. I also bought 4 Norman jewels at this sale. In 1992, I visited the exhibition organized by Claudette Joannis at the Musée du Luxembourg in Paris and this triggered in me (I was 27) and my mother, the desire to collect these jewels.
                   Mireille, April 12, 2022
I ordered your book "Les bijoux des Français" on Amazon and since receiving it a week ago, I have been passionate about reading and discovering it. You have done a gigantic job
of research and I congratulate you for the quality of the content of the rich contents but also for the editorial quality of this beautiful book, beautifully laid out and illustrated.
        Pierre R, Doctor in Management Sciences, Associate of Economics and Management, Professor of International Trade, July 4, 2022
I received your book yesterday and it is amazing! The photographs, descriptions, and the way it is all tied together with history of the regions is wonderful. It is a great addition to my library. I am very excited to order volume II and III. Thank you again!
        Jacqui T; USA September 2022
Just wanted to let you know the book arrived safely yesterday. I am only a few pages into it but it is fabulous, thanks
        Margaret J, Australia, January 2023